Made by us and always of the Highest Quality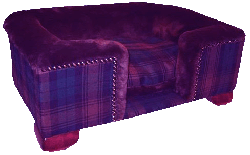 Your family pet (dog or cat) will love their Highland inspired bed.
You too will love its " piece of furniture" look in your home"
Our Pet Bed features:
~ 100% Pure Wool Tartan fabric woven in Scotland from Scottish wool;
~ Tartan of your choice;
~ Removable, cleanable cushioned insert;
~ Hypo-allergenic polyester padding throughout;
~ Solid wood construction with wooden feet to allow air to circulate beneath and lift your pet from cold floors.
Our Pet Bed is available in three sizes:
Small - 24"W x 18"D x 15"H (Internal - 18" x 15" x 10")
Medium - 36"W x 24"D x18"H (Internal - 30" x 21" x 12")
Large - 48"W x 36" D x 18"H (Internal - 42" x 33" x 12")
Each bed is custom made to your specific Tartan request.