ALTHOUGH THE STATUS OF COVID-19 CORONAVIRUS IN THE MANCHESTER & THE MOUNTAINS REGIONS APPEARS TO HAVE CHANGED FAVORABLY, WE HAVE DECIDED TO CONTINUE WITH OUR CURRENT RESTRICTED STORE OPERATIONS OF CURBSIDE PICKUP AND PRE-ARRANGED APPOINTMENTS UNTIL AUGUST 15
CURBSIDE PICKUP
Monday through Saturday ....... 10:00am to 3:00pm
Please call 802-549-8928 with your order in advance.
Frozen Food, Bakery, Groceries & Sweeties Product & Price List
Candles & Body Products Price List
Product Lists are available above and at our front door.
HIGHLAND WEAR & SPECIAL NEEDS
For our Highland Wear & Special Needs customers who require in-person servicing, we are offering PRE-ARRANGED APPOINTMENTS.
Please call 802-549-8928 in advance to setup an appointment.
As usual, we will maintain our policy of
SHIP EVERYTHING, EVERYWHERE
Please call or e-mail us with your order and payment information. We are shipping Monday through Thursday with FEDEX. We do our best to ship the same or next day. Orders with perishables are shipped on Monday through Wednesday only.
Until advice to the contrary, there are new requirements in place.
1. The wearing of appropriate masks that cover both the nose and mouth will be required in order to enter the shop. Single layer coverings such as bandanas are not adequate;
2. You will be required to sanitize your hands immediately upon entry;
3. There is a maximum shop occupancy of 10 including staff;
4. No product is to be handled until the sanitizer has dried;
5. Cashless payments will be preferred;
6. We will be offering appointments for Highlandwear customers

Always look for the Saltire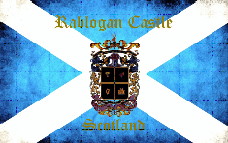 flying proudly on the building
Or you may contact us at any time
Rablogan Castle of Scotland, LLC
4919 Main Street, Manchester Center, Vermont 05255
802-549-8928