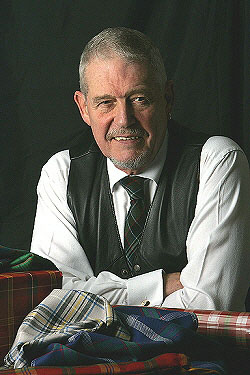 As Director of the Scottish Tartans Authority for almost a decade and now an ongoing consultant, Brian Wilton's knowledge is huge and his enthusiasm infectious. Combined, those result in a great demand around the world for his laid-back seminars on tartan and its international symbolism, seminars that have taken him to far corners of the globe . . . inside Norway's Arctic Circle, Tuscany, Andalusia, Tokyo, the Netherlands, Moscow, St. Petersburg, Georgia, North Carolina and New York.
An equally sought-after skill is tartan designing where he is regarded as the leading world figure in that unique art and responsible for many high profile tartans for Government departments, major corporations, branches of the armed services, European royalty, golfing's Ryder Cup organisation, international store groups, Scottish clans and a host of personal tartans. With his meticulous research, innovative design elements and soulful rationales, he has taken the art into a new era that finds great favour in the modern world.
Often introduced as Scotland's 'Tartan Ambassador' Brian has devoted many years to preserving Scotland's tartan heritage; answering barrages of questions from around the world; globally promoting tartan and its Scottish birthplace; advising on and appearing in film and television projects, giving interviews, writing articles but still finding timer to write his own widely acclaimed book "Tartans." He is now working on a major new publication on Highland Dress and expanding his own tartan design consultancy.

In recognition of his services to the tartan industry in Scotland he was appointed an MBE in Her Majesty Queen Elizabeth's 2013 Birthday Honours List.