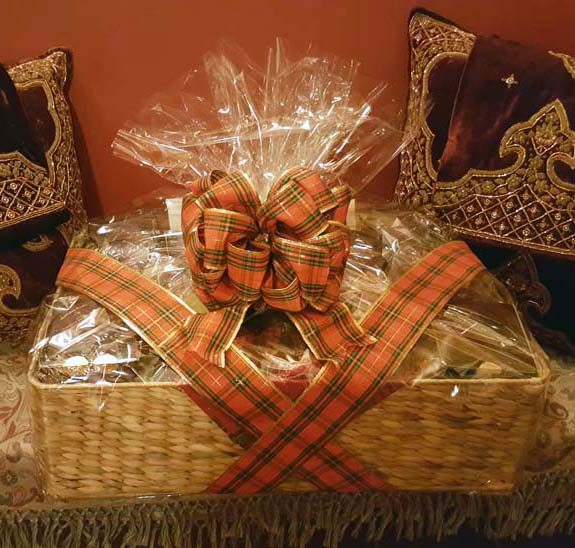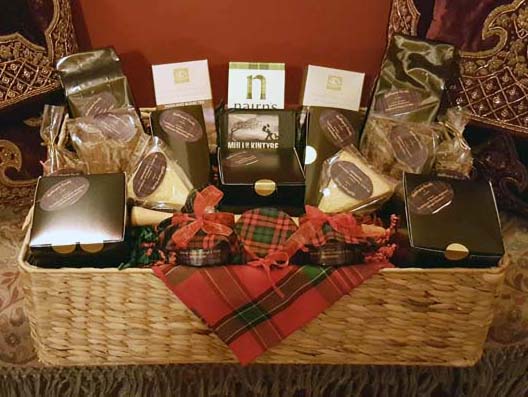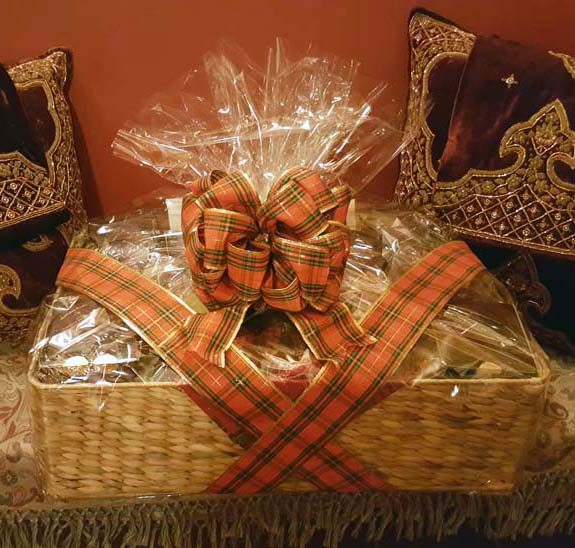 What better way to surprise that special person or family in your life than with a Gift Hamper from Rablogan Castle of Scotland featuring lots of Scottish treats. Choose the Gift Hamper that best suits the person and event and we will make sure that it is personally packaged, wrapped and shipped for you so that it arrives fresh and intact. Gift Hampers are available for store pickup and shipping. All of our Hampers feature Tartan in one way or another.
We now invite you to view our offerings and choose from
Shortbread Lovers

12 ozs of each of "The Logan" Traditional Shortbread, "The Laird's" Authentic Original Shortbread and "The Liomaid" Lemon Shortbread, individually packaged so as to maintain that fresh out of the oven buttery flavour,

$45


Tea Time Hamper

A beautifully presented Hamper comprising a selection of our Shortbread, Preserves, Highland Cookies, Whisky Breacag, Highland Tea and a Tartan feature. Perfect for afternoon tea or a before bedtime snack

$75

The Scottish Breakfast Hamper

Treat the Clan to a real Highland breakfast. Your Scottish Breakfast Hamper will serve 4 people and include Bangers, Back Bacon, Black Pudding, White Pudding, Baked Beans, Marmalade, Scottish Breakfast Tea and a Tartan feature. The eggs, tomatoes and toast are on you.

$95

The Haggis Dinner Hamper

Treat the Clan for dinner with our Haggis Lovers basket. Your hamper will serve at least 4 people and include 2 lb of Haggis (you decide how you want it - 8xlinks, 2x1lb, 1x2lb or mixed), Cumberland Sauce and Haggis Crisps but you have to supply the Neeps and Tatties. A Tartan feature is also included.

$75

The After Dinner Hamper

What better way to finish your Holiday meal than with our After Dinner Hamper. This very special package includes a selection of 4 Cheeses both Imported Scottish and our own Scottish-style, Imported Scottish Salmon (2 x 7oz packs) combined with Oat Crackers, Cream Crackers and a Tartan feature.

$125

The Highland Hamper

A wonderful selection of Shortbread, CookiesTartan fabric and filled with lots of goodies including Shortbread, Marmalade, Presrves, Highland Cookies, Whisky Brac, Highland Tea, Scottish Cheese, Crackers and a Tartan feature too.

$125

The Laird's Hamper

This very large hamper is filled it to the brim for those who wish to experience the flavors of the hearty Highland fare. The Laird's Hamper includes at least Shortbread, Preserves, Marmalade, Scottish and Scottish-style Cheese, Crackers, Whisky Breagac, Tea Brac, Highland Biscuits and Cookies, Highland Teas and Coffee and more.

$200

The "Your Selection" Hamper

Call us and together we can build a basket that is specially selected by you and then packaged by us.

$ Varies based on the selection

We ship with Fedex and charge you only our cost.